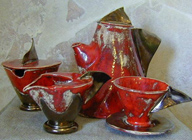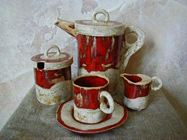 Clay is a uniquely pliable material, which becomes fixed and permanent after firing. We use glazes that make the work suitable for tableware.
Our cups, mugs, and hand-built dishes are individual, each decorated according to the shape of the object with sophisticated glaze colourants. The shapes have a soft profile with visible marks from the process of making.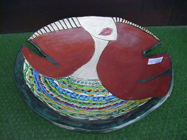 The dishes are delicate, almost paper-thin. Rather than duplicating, we make individual pieces, not even using moulds. The red, buff, and white dishes have small variances depending on irregularities in the glaze, resulting in original tableware giving a unique finishing touch to any interior.

A ceramic tabletop, merging function with almost unlimited possibilities of form, will give your interior a unique character. Most impressive is the combination of a tabletop with a set of dishes of the same style, creating a unrestrained yet complete concept.