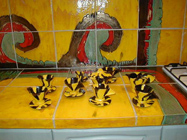 For those dissatisfied with conventional solutions, wanting to shape their surroundings according to their own liking, decorative ceramic elements make a home into a unique esthetic space.

Ceramics is a material that can be used for ornamental elements of interior decoration. Ornamental coloured tiles - used on door frames, floors, walls – are both decorative and functional. They are inherently resistant to damage and stains. A wide range of colours and the ability to create different forms will make any interior stylish and original.

The effects that can be achieved in ceramics are endless. Starting from the entry hall : coat racks, mirror frames and ceramic banisters, the exterior of fireplaces and stoves made from softly shaped temperature-resistant clay coloured with delicate glazes. A particular atmosphere will be created with a three-dimensional picture attached to the wall, edged with tiles or framed.


The interior will be complete with a modest sculpture enhanced by coloured glazes that will reflect light off the modelled surface.

Combining ceramics and the technology of fused glass can give any room an exceptionally fabulous character with an individual climate. Enlivened by daylight or different lighting, the glaze will generate a variety of moods. The unique play of coloured glass in lamps, shades, and other three-dimensional forms defines the decorative character of the whole interior.