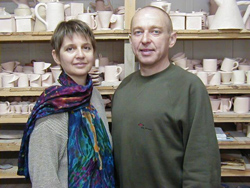 In 1983, in a picturesque town attracting artists from all over Poland, Marek Kozak started Pracownia biżuterii srebrnej (the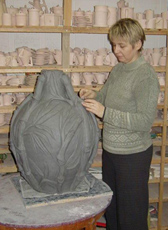 Silver Jewellery Studio).

This unique practice carried out orders for individuals clients. In 1992 Agnieszka Parys Kozak and Marek Kozak founded the MAK company in Lublin comprised of Pracownia biżuterii srebrnej (the Silver Jewellery Studio) and from 1994 Galeria 22 (Gallery 22) in Kazimierz Dolny.
Agnieszka graduated from The Institute of Fine Arts at the Marie Curie-Skłodowska University in Lublin, specialising in silver jewellry design. Marek personally executed his designs in silver, working out the technology and attending to details with a jeweller's precision. Our products are inspired by trends in contemporary art, with a characteristically modern design.

A great interest in different artistic fields inspired us to establish a gallery. Galeria 22 (Gallery 22) was established in Kazimierz Dolny, a small town with an age-old artistic tradition, visited by many tourists. We assembled work ranging from painting, graffic design and sculpture to glass, ceramics and stained glass, bringing together artists from all over Poland. In the gallery we also present our own unique silver jewellry products.

In 1997 we started pursuing ceramics and became fascinated with a new material – clay. We became passionately emersed in the knowledge and technical skills, in the range of shapes, the firing method and ceramic colourants.



The design and practice of jewellry and silver goods limited our field of artistic activity. However, ceramics is a boundless world, where it is possible to create larger compositions with freer forms and colours.

We are members of Związek Artystów Plastyków Polska Sztuka Użytkowa (the Polish Artists' Association of Applied Arts).

You're cordially invited to Galeria 22 (Gallery 22), to Kazimierz Dolny and the vicinity, offering tourists with unforgettable experience of culture and nature. And once you have visited Kazimierz - it becomes your own.


Agnieszka & Marek